Need extra space but dreading the office manager's frowns and employees whining because of the noise and mess? Just contact us to review Modular Office advantages. No dust with quick installation.
Are you in a leased space or have a need to add people in a year or so? In-plant offices with their modular construction can be taken down, added to, etc. Contact us to tour existing inplant offices that have solved other client's challenges.
Lunchrooms/Breakrooms Modular Enclosures provide clean, quiet, comfortable rooms while keeping employees close to their workplace. Breakrooms are available with optional fiberglass reinforced plastic panel (FRP) surfaces for easy clean ups and reduce wear and tear.
Modular Shipping and Receiving offices provide a secure comfortable working environment for your employees. Smaller offices may be built on a fork truck base if you wish to move them at a later date.
Modular Offices are ideal for CMM rooms, quality control rooms, etc. A wide range of accessories are available including increased ceiling heights, overhead doors (high speed available), and FRP panels to name a few.


Modular Floor to Ceiling walls create new offices inside an existing office is clean and quiet. Various vinyl and paint colors are available.
Inplant Office Vision Tower with Storage below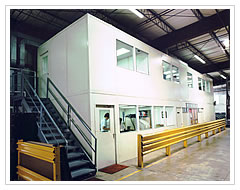 Inplant Office 2-Story
With rugged all-weather construction, Modular shelters are the perfect solution for your employees or clients to be outside. Heaters, benches, lights are a few options available. Units can come fully assembled or K.D., (Newly designed just for Store Mor Equipment, Inc.)