Security, privacy or just cleaning up the clutter, StoreMor Equipment, Inc. can provide lockers that are ideal for Schools, Industry and Health Clubs.
From a wide selection of metal, stainless steel, plastic or wood, there is a locker to suit your every need. We provide locker room layouts at no charge and have accessories like number plates, combination locks, padlocks and benches to complete the job.
We have Tenant lockers for tenants or employees who have equipment or other bulky items to stow, plus storage enclosures for all types of applications.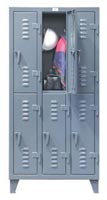 Early Childhood Lockers
Accessory items